Yay! Just in time! I thought I would be canceling it out of my 2010 resolution. I just hate going back on my word.
Anyway presenting to you my Chanel brooch! Handmade of course.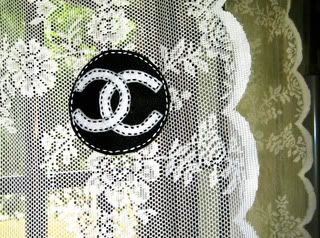 What do you think?
Now why'd I come up with something that just goes against my principles of copying a copyright item??
It started last year, I figure since I like doing Handmades stuff, why not sell them. I've a classmate who has a blogshop and suggest I do a
Chanel-ispired
brooch.
Of course there's nothing "Inspired" bout this piece cos its an out right copy of their logo.
I could of course have made it pop art-
ish
by using patterned cloth for the the interlinked 'Cs' or I could have done something along the the line of I *heart* *Chanel logo*
She did of course tell me it won't sell like that.
I was in the middle of making this sample piece for her but I thought half-way through I'd rather not sell'em. AT the same time, I don't like unfinished work.
So the question is should I or should I not sell these?
Albeit in limited numbers only.