Mood: TGIF! :D
Week one of 2010 is over, the school week at least.
I'm swamped with work, signed up for something which is a waste of time, and the lover might be activated(??) and will be called back to his camp either this weekend or the next.
Yet I'm sickeningly pretty upbeat about it. :D
In order please! :
1.
I'm swamped with work
I'm lazy or I have this weird affliction(
I believe someone told me its procrastination
) of putting off work till the last minute and work myself into a panic.
I do, do work, just the small ones, like tutorials and unimportant neccessary stuff, for example, the new header of my blog! It took me hours. I created bout a total of 3 banners before choosing this one.
2.
I signed up for something which is a waste of time.
I've got work (see point number 1) and I signed up to volunteer for my school's open house tomorrow from 12 to 3 because,
i) I get a $4 KFC voucher. _-_-; Hey its better than the other volunteers! They get $4 foodcourt vouchers.
ii) I get CCA points
iii) I heard that after the end of the Open House, we'd get a proper thank you luncheon. (Gosh I'm such a sucker for food)
3.
Mr. Wonderful is on standby
Darn it. Anyone up for a Girlfriends left stranded because your NSman has to report back to camp facebook group??
We can have an SMS activation thingy incase a few of us are suddenly left stranded and I don't know? bitch bout it?
On another hand, I've been practicing the art of self-portraiture. I can't really say I like the result. Grainy to say the least, and the model is fat. Grainy part, my fault, I set the ISO too high. By the way, who decided to put ISO levels on Digital cameras?!?! On analogues, sure you need it but a digital?? Do people really want the grainy effect?? Ok I know higher ISO setting is so that you can take indoor photos especially if its dark.
Oh and I being fat, my fault too. I hate Poly life. All work, food and no exercise.
Anyway enough of ramblings, photo time!
As you can I did
abit
substantial photo editing to mask the fact that its grainy, and I'm fat.
As for this one, sigh, I had no idea why the aperture was so high! So much light! Grr. Unreliable, redundant, bloody, point and shoot camera.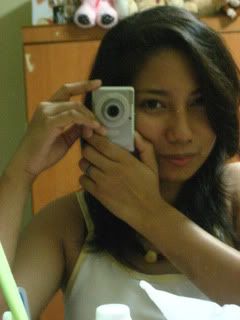 An out-take. A non-edited, extremely grainy photograph. I kinda realise I look way better grainier. LOL. and with my hair down.
So that's it! I know the lover wants to see me in that dress and the only reason why I took these was cos of him.
Self-portraits are too tedious and I'm not exactly photogenic.I don't like to camwhore, well at least post up my photos. I prefer being behind the camera and inane objects as subjects of my photography.